Poros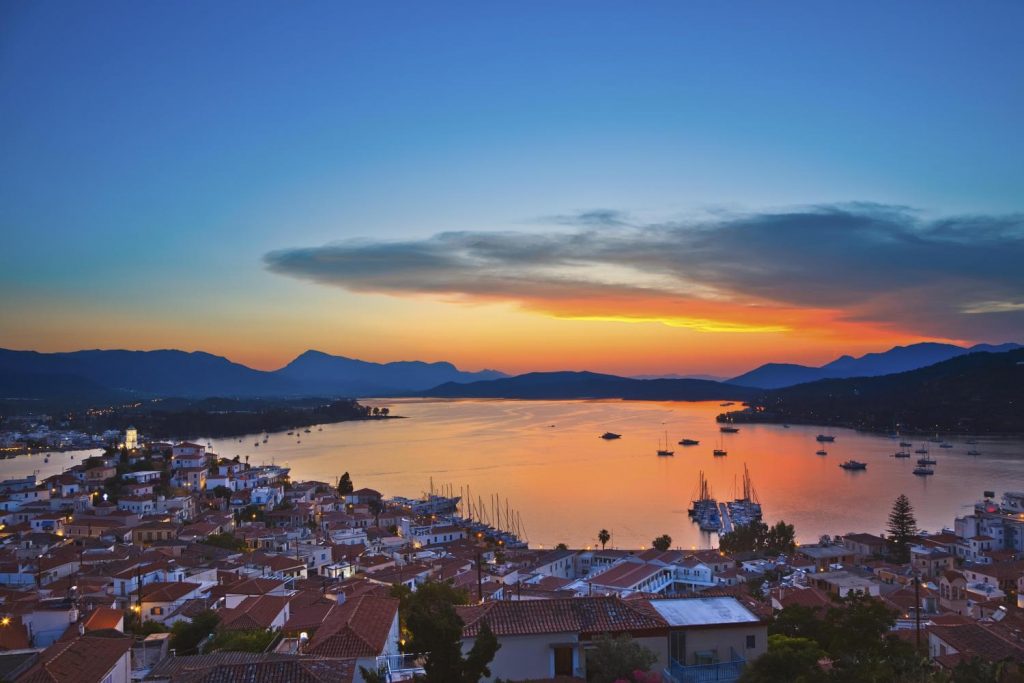 A place beloved by Seferis, the Greek Nobel laureate, and Henry Miller, with its beautiful nature, vintage charm and peaceful ambience. A stone's throw from Galata on the mainland, in Poros you'll find small tavernas, yacht marinas, neoclassical buildings, a clock tower, pine forests reaching the sea, serenity and relaxation.
Lush pine trees vegetation, crystal clear beaches, a lively waterfront adorned with shops, cosy cafes and restaurants, a picturesque capital (it has been declared protected settlement) with grand traditional mansions and picturesque cobbled streets, as well as a wide selection of entertainment venues are the ingredients of this quiet, yet cosmopolitan, destination that attracts visitors from all age groups.
The town of Poros is built in the shape of an amphitheatre over two hills. In antiquity Poros consisted in fact of two islands, Sphería and Kalávria, but the last explosion of the Méthana volcano in 273 BC radically changed the morphology of the area. Sphería was cut off from Méthana, and in this way Póros took its present-day form.
Poros is also famous for its beautiful beaches, stretching uninterrupted along the island's coastline. Swim in the crystal clear waters of the long and sandy beach of Askéli; the hotels and bars situated here make it an interesting tourism resort with buzzing nightlife. Meyálo Neório is a sandy beach where the pine trees sweep right down to the water's edge. Bask in the turquoise blue waters of the "Love Bay", a beach surrounded by verdant pine trees that literally dip their needles into the sea. Enjoy a unique natural shade!
Source: visitgreece