Kythnos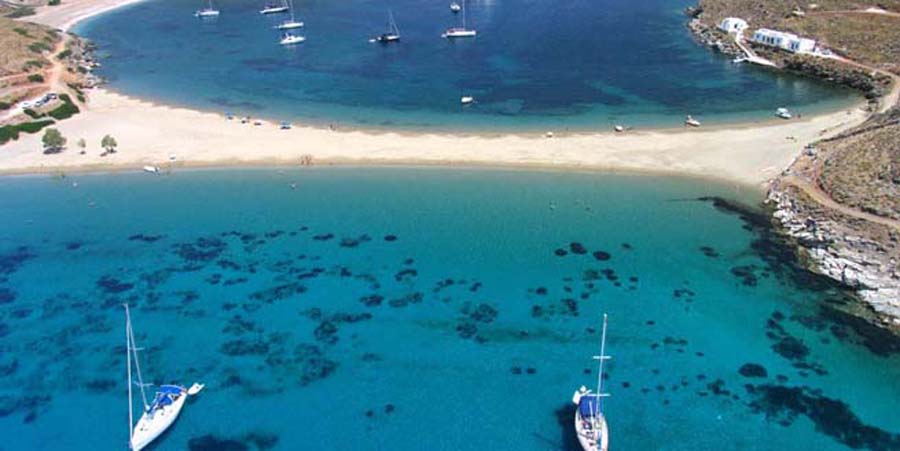 Also called "Thermiá" on account of its thermal springs, Kýthnos is very close to Attica; still, it is one of the less visited islands of the Cyclades. The island's harbour (Merihas) and capital (Hóra) as well as Loutrá and Dryopída are located in the North. In the south, only the areas by the bay of Ayios Dimitrios and Panayia Canála are inhabited (where a famous monastery is situated within a pine forest).
The most impressive of the 65 sandy beaches of the island is Kolóna, where a lane of sand connects the islet of Ayios Loukas to Kýthnos. Low stone fences run for many kilometres on bare Cycladic hills with 350 white country chapels here and there. The typical Cycladic style equally appears in the villages: cobbled narrow streets, white houses, squares, chapels and windmills. Follow the paths that connect the villages to each other and taste apricots and wild mulberries on the way to Katafýki cave, one of the biggest caves in Greece with beautiful stalactites and stalagmites.
Kýthnos is definitely the place for thermal tourism. A modern spa centre is in operation in Loutrá, with two hot springs in the area. The following springs have been famous for their therapeutic effectiveness since the ancient times, namely the spring of Ayioi Anárgyroi, inside the spa facilities, and the spring of Caucasus, at 50 m. from the first one, with a temperature reaching 52 degrees Celsius.
The festivals on Kýthnos have maintained their traditional character. All the locals take part, singing to the rhythms of the violin and the lute.
Source: visitgreece